Plumber company serving
Sugar House
(801) 601-1298

Our plumbers are always ready to serve residential and commercial customers. Most of the time we are ready for same day dispatch. Call today to schedule a plumbing expert.  We serve all of 84105, 84106, 84108, 84109, and all other zip codes in Sugar House.
Plumber in Sugar House, Utah
drain cleaning
bathroom plumbing
faucet repair
leak detection
rooter services
water heater repair
No matter what issue you are facing you can rest assured that we are the right plumbing company for you. Every single job comes 100 percent guaranteed, we also have the longest and best warranties in the industry.
The key is regular maintenance and preparation
If you are a resident of Sugarhouse, UT our biggest piece of advice is regularly checking your house for signs of leaks. This means paying attention to any weird noises, smells, or signs of water damage. Sometimes leaks cannot be easily found or diagnosed. This can happen, for example, low water pressure can be a sign of a leak, even if the leak is not visible to the naked eye.
Commitement to our customers
Sugar House is one of the most historic cities in Utah. There really is nowhere quite like it in the state. Sugar House has a feel and culture all its own. However, when you deal with a historic place, you tend to get older homes and businesses. This means that sooner or later you are going to need a plumber to address issues that come along with older pipes and drains.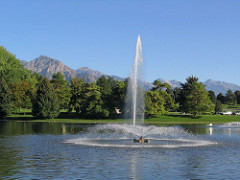 Water utility services:
Water heaters: Our plumbers are here to repair your damaged or broken water heater. If you are experiencing a leak, or need a technician to install a new water heater, call us today.
Water softeners: Are you dealing with hard water in your home or business? We are here to install or repair your water softener to remove hard water, saving your pipes and fixtures.
Sump pumps: We are experts at removing water from the foundation of your home or business. Our plumbers are here to install or repair sumps pumps, french drains, and sewage ejector pumps.
Bathroom plumbing: We handle all bathroom plumbing needs including new installations, faucet repair, bathtub installations, new showers, toilet repair and everything else that your bathroom needs.
Plumber services include:
Drain cleaning: If you have a clogged drain line or pipe, we are the company to fix it. Our techs provide complete rooter services to keep your pipes flowing.
Leak repairs: We are some of the best leak location and repair companies in Utah. Our techs can find any water, sewer, air or gas leak and repair it right away.
Broken pipe repair: Our plumbers fix broken pipes of all sizes and uses. If your pipes have burst, are leaking or require thawing we are here to help repair your damaged pipes.
Schedule an appointment
We are happy to answer your call 24 hours a day, 365 days a year. Plumbing problems do not only happen during regular business hours. The best part is that we do not bring extra costs to you for requesting work after hours or during holidays.
Find us on Google Maps.
Our dispatch headquarters is a quick 10-minute drive from the heart of Sugar House.