Just like any appliance, water softeners can become damaged or not work properly over time. Since water flows through the unit, the main reason these units break is that water stops going through the pipes. More often than not this problem is due to salt and minerals building up in the lines. Another reason where you will need to call a specialist to repair your water heater is if the motor has burnt out and stops running.
Water softener installation services.
Our plumbing contractors work with both residential homes and commercial businesses. When hiring someone to install a water softener in your home or business it is important to work with a professional. At Plumbing Utah Heating & Air you are guaranteed that a licensed, insured and professional plumber will be working on your water softener and offering their expert opinion to getting the right unit for your needs.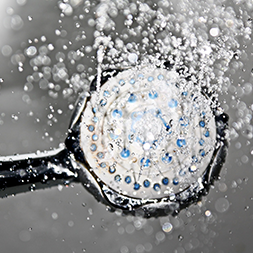 Problems hard water can create.
Living in Utah we generally have a higher concentration of hard water. Certain cities and areas within the valley will have higher levels of hard water than others. Although hard water doesn't necessarily pose any health or safety concerns, it certainly does cause inconvenience. The largest concern with hard water is that it can cause your faucets, and other water utilities to break or become damaged over time. Whenever you have hard water running through a system minerals will build up and impede the flow of water.