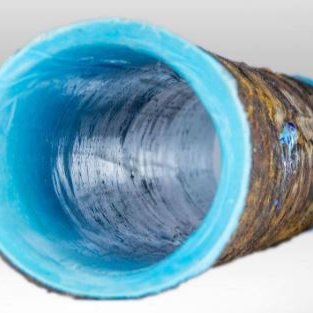 Commercial or residential plumbing problems can be very expensive and overwhelming, but it doesn't have to be that way.  At Plumbing Utah Heating & Air, we find most of the time when lines need to be repaired, you don't have to dig. We offer the latest trenchless technology when it comes to water main installation in Riverton, South Jordan, Draper, Sandy, Midvale, Murray, and the surrounding Salt Lake City metropolitan area. We offer a "one-hole guarantee" when it comes to our leak locate or leak detection methods. We will be able to repair or replace your pipes without having to dig up your property-saving you time and money.
Sewer Line Replacement in Salt Lake City.

With our trenchless method for sewer replacement, there's no need to dig up your lawn.  Trenchless sewer replacement, also known as "pipe bursting," is a seamless process designed to preserve your landscaping. The process replaces existing sewer lines with new ones through two small holes, rather than a traditional construction trench that could potentially ruin your lawn or landscaping. Our techniques include horizontal thrust boring, impact moling and micro tunneling leaving your landscape trench free. Plumbing Utah Heating & Air has the ability to replace your sewer or water main without digging up your front yard.
Pipe Lining "One Hole Guarantee".
You can count on Plumbing Utah Heating & Air to pipe line or pipe burst a new water or sewer main for you without making a mess of your yard. Please call us today for a free leak locate and detection when you use Plumbing Utah Heating & Air for pipe replacement or pipe repair. We offer competitive prices and affordable solutions that can meet any budget. The services we provide include but are not limited to:
Free Camera Inspection
Trenchless Water Main
Trenchless Water Replacement
Trenchless Sewer Replacement
No Dig Water Line Replacement
Sewer Repair
Sewer Main Repair
Water Main Repair
Water Main Replacement
Sewer Re-pipe
Water Re-pipe
Sewer Spot Repair
Sewer Line Install
Water Line Install
Pipe Bursting
Sewer Bursting
Sewer Lining
Water Line Boring
Sewer Line Boring
Gas Line Boring
Utility Boring
Horizontal Thrust Boring
Underground Pipe Bursts
Pipe Lining, Sewer Lining
Trenchless Sewer Main Repair/Replacement.

Sewer problems are the last thing property owners want to deal with. If you are looking for professional and reliable sewer line repair in Salt Lake City, Plumbing Utah Heating & Air is the name to trust when it comes to professional sewer pipe repair. Our professional plumbers have the experience to deal with simple blockages to full sewer line repair and replacement. Whether you have collapsed drains or burst pipes, we're the plumbing company you can trust. We can solve your plumbing problem before it leads to more costly repairs.
We offer 24-hour Emergency Plumbing Services. Give us a call today at (801) 601-1298.

Trenchless Sewer Line Repair/Replacement.
When sewer line repair companies come to fix sewer lines, you'll hear many people complain about their destroyed yards, driveways or parking lots. For Plumbing Utah Heating & Air, this is not the case. Our trenchless repair techniques allow us to not only quickly fix your sewer line problem, but it also allows us to keep your yard completely intact.
If your sewer system is beyond repair, it may be time to get rid of the old and bring in the new. No matter the situation, we can give you professional recommendations on how to move forward. When you need to replace your sewer lines, we know how to make it fit within your budget. For professional sewer line replacement, rely on Plumbing Utah Heating & Air.
Pipe Bursting in Salt Lake City.

Our technicians can make insertions or holes at both ends of the damaged sewer pipe with this method. A new replacement pipe is then inserted on one end and pulled by a hydraulic machine through the old pipe. This process will cause the old pipe to burst or split and the new, leak-resistant and stronger sewer pipe will replace it- and the best part, there is no need to dig!

Need Trenchless Sewer Line Repair in Salt Lake City? Contact Plumbing Utah Heating & Air.
Plumbing Utah Heating & Air has experience in handling many different types of commercial and residential plumbing problems. When you call us, you can trust you'll get one of the best plumbing services Salt Lake City can offer. Not only can we address standard sewage problems, but our sewer repair services include fixing broken sewer and main water lines, replacing collapsed pipes, and repairing root damage. You can count on us for all your emergency plumbing repairs in the Salt Lake area. Call the #1 plumbing company in Salt Lake City today at (801) 601-1298. We'll have your pipes fixed in no time at all!
Plumbing Utah Heating & Air
9322 700 E
Sandy, UT 84070
Phone: 801-601-1298