Salt Lake City water heater experts
If you are suffering from no hot water, or your water heater leaking it is time to call a plumber. We are here to help get you back on track in the most cost-effective and intelligent way possible. Our professional and experienced technicians are here to help you find a long-term solution in the most cost-effective way possible. We use the latest tools and technology to determine the source of your problem, then make suggestions as to whether it would be best for you to repair your water heater, or replace the unit altogether.
Keep an eye out for the signs of water heater issues
One of the nice things about water heaters is that when there is an issue with them, chances are you will find out fairly quickly. Here are some of the signs that you may need to call a plumbing company:
We are here to help call today: 801-601-1298
Tankless water heaters.
In terms of convenience and reliability, this is the way to go. We have the lowest rates in the valley and install only the best products With never a dissatisfied customer let Plumbing Utah Heating & Air installs your tankless water heater today. This will save you hundreds and thousands of dollars for years to come off your gas and water bill. High efficiency, units, space-saving, sometimes the size of a suitcase. Get rid of the old, leaking water heater and start saving money today.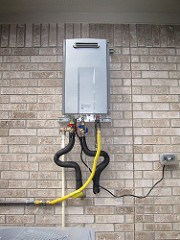 Lack of water pressure when using hot water.
Water has a weird or bad-smelling odor to it.
Unusual levels of sediment in the water
Visible leaks around your water heater
Rattling sounds or other strange noises.
Plumbing Utah Heating & Air
9322 700 E
Sandy, UT 84070
Phone: 801-601-1298