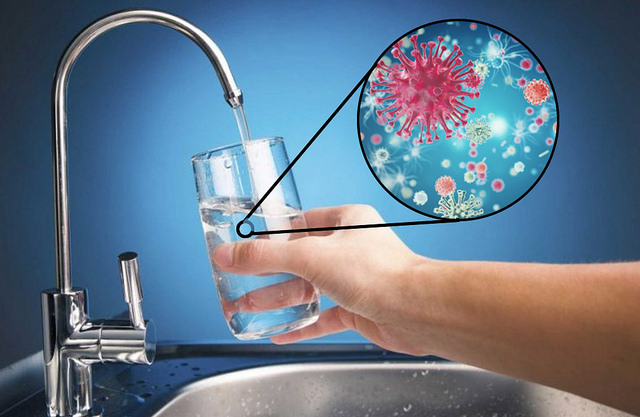 Depending on where you live in Utah you can face this problem for various reasons.  If you live in older areas like Sugar House, Cottonwood Heights or Park City there is a good chance your home is around 100 years old.  During this time it was common to use improper piping materials such as polybutylene or galvanized steel.  All of these pipes have a lifespan of around 800-100 years.  As they begin to show their age these pipes are prone to leaking, or they will begin to contaminate your water as it passes through them.
In newer locations such as West Jordan, Herriman, and Eagle Mountain it is more about the local water source that you are getting in your home or business.  Many of these areas have unusually hard water that is full of minerals like calcium, or magnesium.  Not only does hard water taste and even smell funny, it causes build up on your pipes and faucets that will accelerate deterioration.
See likely water contaminants here:
The EWG has a database of over 316 possible contaminants on their website.  You can search by city, state or zip code to see what could be affecting your home or business.
Common causes of bad smelling water.
Our customers have experienced these different results when using their tap water.
A smell and taste similar to rotten eggs. This is usually caused by hydrogen sulfide that is seeped into the water as it travels underground.
A chemical or chlorine taste and smell. This is sometimes a side effect of the chemical treating that is taking place from your water source.
Metallic taste to the water. We kind of covered this one, it is almost always due to old piping that is beginning to rust and wear away.
What can you do about your water problems?
The most important thing is to schedule a professional plumber to look at the situation.  They will be able to find any possible leaks, determine the condition of your pipping, and provide options relevant to your situation.  Depending on the severity they may recommend installing a water softeners, a whole home re-pipe, or the installation of a whole home or business water filtration system.
At Plumbing Utah Heating & Air we believe in giving you a comprehensive list of options to help you weigh the benefits.  We also offer financing to help you make the best long-term decision without having to break the bank.  Call us today with any questions or to schedule a water purification professional.