Having a leak in your home or business is a frustrating situation, a leaking water heater is no different.  Water heaters tend to leak from different areas and for different reasons.  Below are some of the common areas that a water heater will leak and what you can do about the problem.
Determining why the leak has happened.
There are a couple of different scenarios you might be looking at here.  One situation might be that water has collected at the bottom of the water heater, but you cannot see a visible sign of a leak.  Another could be that the tank or connecting pipes are visibly spraying water all over the place.  Another area the leak could be coming from is the spigot at the very bottom of the water heater itself.  In any of these scenarios, you are going to want to shut off the water to the unit as quickly as possible.  Doing so will prevent further flooding and damage to your property.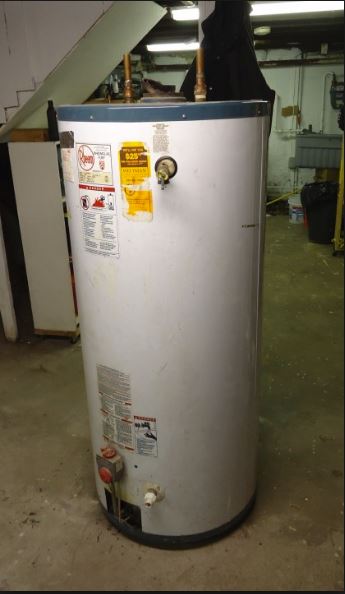 How to shut off water to the heater.
Step number one is going to be turning off the water heater itself.  If you have an electric water heater you can simply find the water heater's circuit breaker and switch it to the "off" position.  If you have a gas-powered water heater you need to locate the switch or dial that turns the water heater on and off.
For step number two you will want to shut off the cold water supply to the heater.  Warning: the unit or its supply lines could be hot.  Make sure you check things out before you touch anything, personal protective gear such as gloves are highly recommended whenever doing these kind of inspections.  There should be a water supply line above the water heater unit.  Simply turn the dial clockwise and that will turn off the water.
The final step is to call a professional.  Depending on where the leak is coming from your repairs costs could be minimal.  Examples would include things like your supply lines and connections needing to be tightened.  Or if the spigot (known as the drain valve) has begun to leak and needs to be replaced.  In the worst cases the actual tank has cracked and your whole water heater is going to need to be replaced.  Regardless of the situation, a local water heater repair company will be able to diagnose the leak and inform you of different solutions.
Upgrade your water heater system today.
Of course, we don't like to see situations where people are dealing with a plumbing emergency.  When something breaks it is usually not planned, and these expenses can be hard to handle for many Utahans.  If however, your water heater does need to be replaced we are happy to offer financing as well as various options to meet your needs and budget.  Perhaps we can help you turn lemons into lemonade by using a broken water heater as an opportunity to go tankless.  We invite you to call our office today to learn more about the benefits of a tankless water heater.