Our plumbers have been reporting recently that many homeowners are a little confused about the best ways to prevent water damage to their property.  People tend to assume that they need a sump pump installed to remove water that has collected and seeped into their basement.  Although professionally installed sump pumps do have their place, they are not the ideal solution for all situations.  An alternative is to have a French drain system put in place.  As we know, water will always flow downhill and follow the path of least resistance.  A French drain system takes advantage of basic physics by using gravity to move standing water away from your foundation to a new location where it cannot cause damage.  Although the principles behind how a French drain works, it must be done correctly in order to work and last for a long time.
Benefits of a French drain system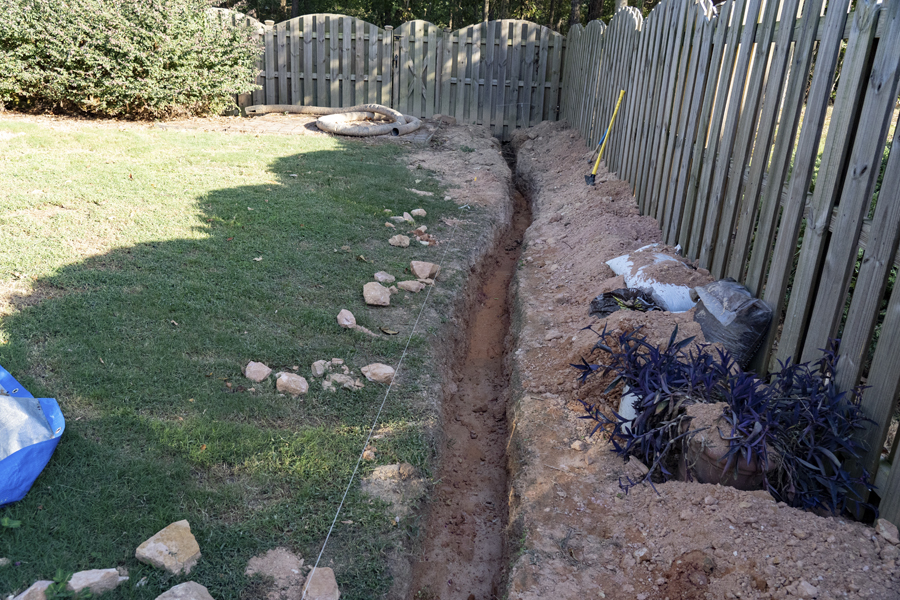 Essentially a French drain is a trench that has been dug.  In this trench pipes allow water to flow and then covered with gravel or other materials.  A quick fun fact, the name of this trench doesn't come from the country at all.  Rather a judge names Henry French who developed this system in a book about farm drainage techniques.  As we mentioned above, professional installation will help ensure that this system works properly.  If you have a soggy yard or have seen water damage in your basement this solution might be ideal for you.  The best way to know is to contact a trusted plumbing company near you.  Ideally, one that focuses on leak location and detection.  These specialists will be able to find where water is collecting and help remove this water from the foundation of your home or business.
It provides efficient drainage without mechanical parts or much upkeep.  You can have the water transferred to another area where it can safely drain.  This can be a dry well, the city's sewer system, or even into the street where the water can flow down the gutters.
A French drain system is surprisingly affordable when compared to other basement flood prevention techniques.  The money you can save is even more beneficial when you compare it to the cost of potential damage to your home or property.
It can transform your yard for the better.  This technique is relatively fast to install and can help with the upkeep of your yard.  You can avoid a wet, soggy overwatered lawn or better yet, point the water to sections of your yard where the sprinkler system has a difficult time providing proper moisture.
Install a French drain system in SLC today
Call Plumbing Utah Heating & Air today at (801) 601-1298 to schedule an appointment for installation.  Our technicians are experts at pinpointing potential water leak areas to properly address all your drainage needs.  We have helped hundreds of homes just like yours avoid property damage by removing standing or collecting ground water.  We stand behind our work and will help create a long-lasting solution.