If you are getting new fixtures, our expert plumbers are there to help you with all installations and upgrades. Our professional and courteous technicians have years of experience remodeling and rebuilding bathrooms. This means that not only can you count on us to get things done the right way, we can also provide trustworthy opinions on your plans. At Plumbing Utah Heating & Air our main goal is to give you all the options to get your bathroom fixed, repaired or remodeled in a way that is high quality and cost-effective. We are here to help you create the bathroom of your dreams. Take a look at some current bathroom design trends for inspiration.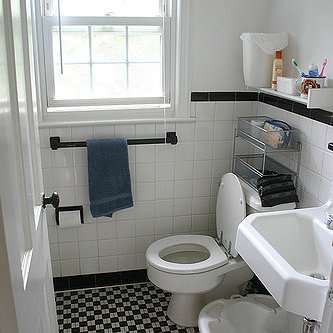 Faucet and fixture repairs
Have a plumbing problem? We are here to help. We have seen it all throughout the years. No matter what issues you are facing we are here to fix your issue right away. This includes:
Tub and shower valve rebuilds
Installs
Fixtures and Faucets
Supply stops
New toilet
Toilet rebuild
Common bathroom plumbing questions
Why does my toilet keep clogging? In most cases, the answer is simply because the toilet is being used incorrectly. Many people treat their toilet like an extra garbage can in the bathroom. The only things that should ever go down a toilet are reasonable amounts of toilet paper and human waste. Things that may seem harmless like tissues, q-tips, feminine products, condoms, dental floss or baby wipes make their way into residential toilets. These products should never be flushed and are the main culprit behind toilet clogs. The simplest solution is to keep a trash can by your toilet and make sure everyone in the house uses it for debris and garbage instead of the toilet.

Do I need to replace the piping in my bathroom? There are countless signals that may mean it is time to replace your bathroom piping. A good way to tell is to know the history of your home. If your pipes are older than 30-40 years you can expect to start seeing leaks and other plumbing issues begin to arise. Unusual sounds, leaks or frequent clogs are all signs that it is time to call a bathroom plumber and request an inspection or free estimate.

Is there an extra cost to have work done after hours or over the weekend? The short answer is no. However, as a plumbing company, we deal with a lot of emergency situations. While we are always willing to fit within your schedule we prefer to keep after-hours work and weekend open for customers dealing with an emergency that has to be dealt with immediately.
Emergency services
We are proud to offer 24/7 to any residential or commercial customer dealing with an emergency plumbing situation. Please call Plumbing Utah Heating & Air today for prompt and professional service to avoid any further damage to your business or home.
Plumbing Utah Heating & Air: (801) 601-1298
Quick contact form
You can be speaking to a licensed plumber or HVAC technician in minutes. Simply give us a call or fill out the contact form to the left to get in touch with Plumbing Utah staff. Remember we are on call 24 hours a day 365 days a year.