A plumbing emergency is any situation that can arise in your home or business where immediate action needs to be taken.  In these situations if action is not taken right away you run the risk of having further or permanent damage to your property, and even personal injury, depending in the nature of the emergency.  Below are some things you can do if a plumbing emergency problem should arise.  After reading this article you will be able to determine what is going on, and what you can do to avoid these situations in the future.
Steps to take during an emergency plumbing problem.
The most important thing in any emergency situation is to not panic.  We need to stay in a mental state that allows you to understand what is happening and what you can do about it.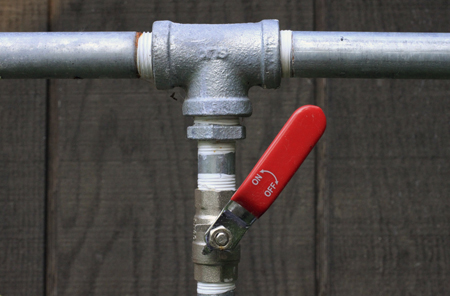 Step 1: Shut off the water.  It is important to know where your water shut off valve is and how to turn it off.  By turning off your water at the first sign of a leak you can help prevent further damage to your home. If you travel out of town frequently we offer the latest leak prevention technology that will alert you right on your phone of a water leak. Should an issue arise you can actually shut the water off right from your phone.
Step 2: Tackle any small leaks and clean up standing water.  You can use any cleanup material that is right for the amount of water that is flowing.  Some handy items to keep in your plumbing emergency kit would be things like paper towels, cleaning rags, plumbers tape, and a flashlight.  You are going to want to mop up any standing water, and stop small leaks as best as possible until an expert plumbing company arrives.
Step 3: Check you major water utilities.  The first place to check is going to be your water heater.  In plumbing emergencies where you need to shut off your water, turn off your water heater until the issue has been fixed by a local plumbing company.  Doing this will help relieve any built-up pressure and heat inside the unit.  If this pressure and heat is not subsided you run a risk of the water heater leaking or bursting.  If your water heater is gas powered make sure that you turn the gas off to the unit before shutting down the heater.
Step 4: Keep your plumber's phone number handy.  Here at Plumbing Utah Heating & Air, we are always happy to provide 24-hour emergency plumbing services.  Please feel free to keep our phone number in your contacts to avoid having to look it up in the future (801) 601-1298.  By making us your preferred plumber you can always rest assured that the best will be to your location as quickly as is humanly possible.