Almost like clockwork, when the snow starts to fall and the temperature drops to freezing temperatures, typical "winter woes" begin.  People start getting sick, roads get dangerous, and of course, plumbing issues can arise.  We all tend to be distracted this time of year with positive things like holidays, or the negative items mentioned above.  It is important to remember that your plumbing needs your attention more than ever when it's cold outside.  There are simple things you can do as a home or business owner to help.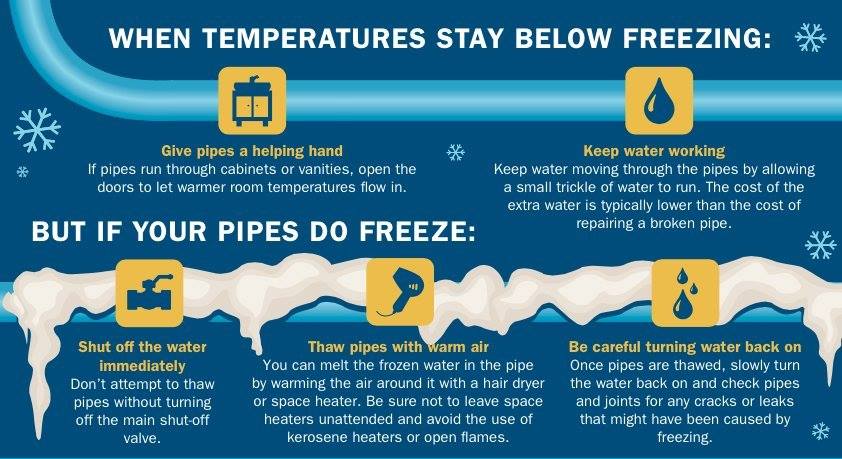 Our commercial and residential plumbers want to help you help yourself.  Even if you are not experienced with plumbing, there are simple things you can do.
Preventing frozen water pipes
Have your pipes properly insulated:  Did you know that the average repair cost for burst pipes can easily total over $5000?  The good news is that most water pipes can be easily insulated for a small fee.  If you notice that various areas of your piping system is not insulated call a professional plumbing company to help winterize and protect your home, business and water utilities.
Let your water drip a small amount:  We have published articles in the past about the large cost associated with small leaks and dripping faucets.  However, on nights when temperatures plummet below zero degrees it is a good idea to let the water flow.  Even a small trickle running through your pipes will stop complete freezing and prevents dreaded pipe bursts.
Ensure that your property has been properly insulated:  Simple things like ensuring that your garage door stays closed during the winter goes a long way.  Keeping your basement above freezing levels is essential during the cold winter months.  Many people will go out of town during this time of year.  If you do so we recommend that you keep your home at 55 degrees and above to help avoid property damage.
How to Identify Frozen Pipes
Identifying frozen pipes is a fairly easy process.  A lack of water pressure is usually a good sign.  If you notice a drop in flow from your shower or bathroom faucets, cross-check the signs.  Are you having low flow anywhere else in your home? Is your toilet filling itself back up to its normal level at the same pace it usually does?
You can also perform a visual inspection of your pipes to see if they have frosted over.  Pipes can also expand when freezing so be on the lookout for pipes that look like a snake that has had too much to eat.
What can I do about frozen pipes?
The most important things to remember is to not try and thaw out the pipes without first shutting off your main water valve.  By shutting off the water you begin to alleviate pressure buildup within the internal pipe walls.  You can also begin warming the air around the pipes.  This can be done with a space heater or a handy air dryer.  We highly recommend staying away from kerosene heaters or anything with an open flame.
If you feel that your entire plumbing system has been effectively thawed you can carefully turn back on your water.  It is important during this step to use all of your senses to detect if something has gone wrong.  This means listening and looking for cracks, signs of damage, or the splashing or hissing noise of water escaping a damaged pipe.  Remember that professionals are right around the corner from your location.  Should you need us call today at (801) 601-1298 to schedule a plumber.